MAICO Pictures 1983
1983 MAICO 490 & 250. Technical specifications at the bottom of page

The 1983 maicos where more or less a complete new construction. The engine was completely new and so extremely small that some magazines questioned how on earth maico managed to squeeze everything into that small case. The engine was more conventional without the primary chain and a more common husqvarna like clutch. The engine has always been good and is the same in the later water cooled designs and is even today a successful engine in sidecar motocross with a displacement up to 700cc and the name Zabel.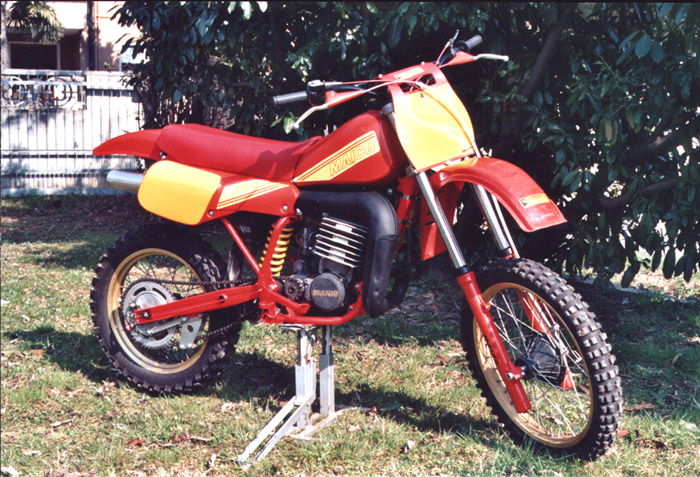 The 1983 maico is a mighty bike. It's strong with nice suspension, good looking plastic and finally got a better rear suspension. In some markets the importers changed the rear shock to a Öhlins unit which gave the bike top notch world class suspension. Now the rear was even better than the forks!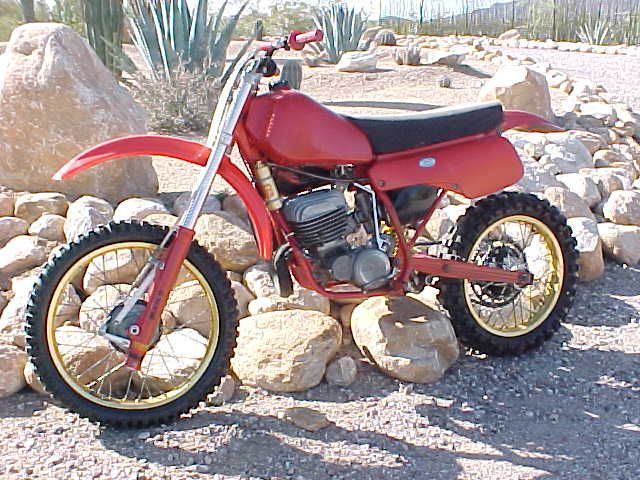 Maico was associated with big bang open class bikes. The open class was slowly dying and with the 1983 250cc maico for the first time had a competitive 250. Still air cooled and a bit old fashioned but the power and suspension was on top. I had a 1983 maico 250 spider and must say that it was the best dirtbike I ever had. Not a thing broke ever. I tried to drag race all japanese marquees and it was clear that the wider powerband of the maico made it faster over the straights. I have ridden many bikes but I cannot recall any bike to have the exceptional suspension of the maico spider. It soaked up everything and the rear wheel almost never left the ground. Unfortunately some production flaws gave the bike a bad reputation. Hubs and wheels broke down mostly but I never had a problem. The balance, quick steering yet stable is something that is unusual even today. I can't say too much good things about it, simply the best!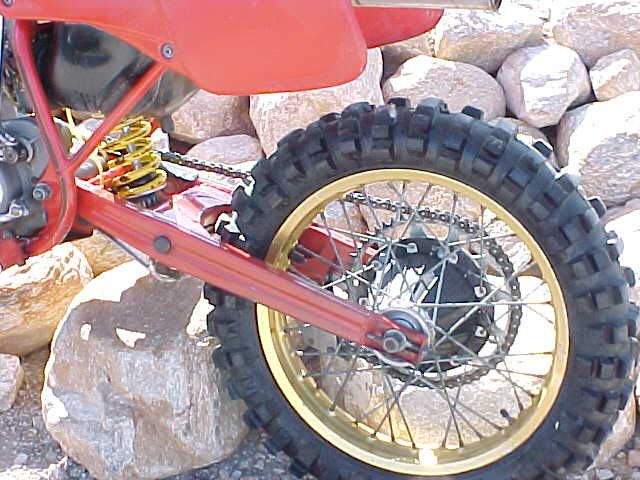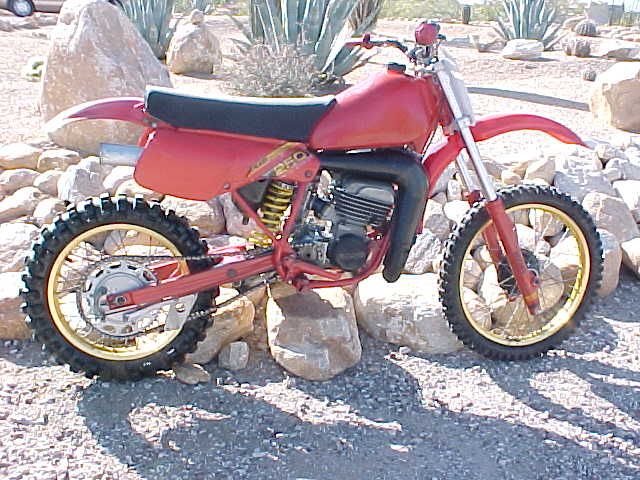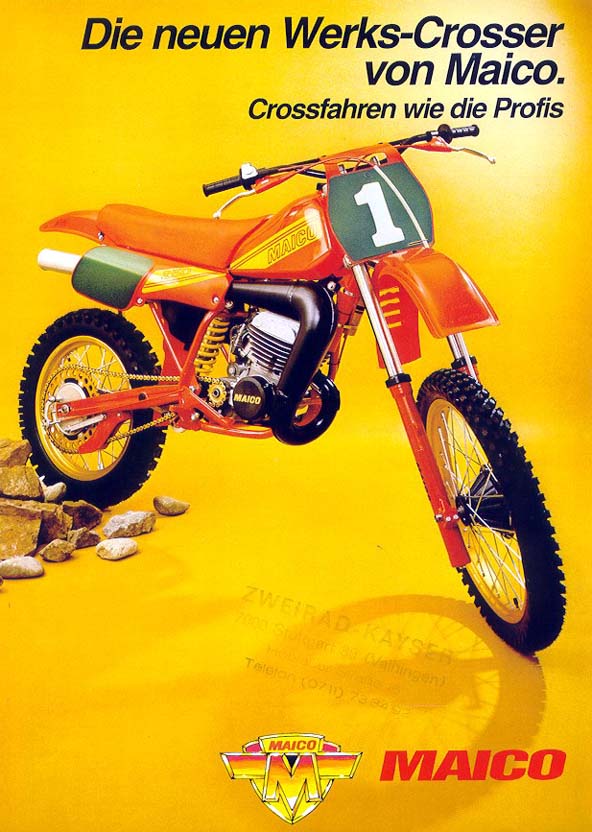 Technical specifications
MAICO 250cc
MAICO 490cc
Engine:

2-stroke single cylinder piston port air cooled

Displacement:
247cc
488cc
Bore/Stroke:
67 x 70mm
86.5 x 83mm
Compression ratio:

12:1

Carburetor:

Bing V54/II ø 38mm

Bing V54/II ø 40mm

Horespower:
42HP / 8000RPM (DIN)
56HP / 7000RPM (DIN)
Clutch:

Wet multi disk

Transmission:

5 speed

4 speed-spider MX / 5 speed-sand spider
Gear ratio:
2.07/1.61/1.24/1.04/0.88

2.36/1.70/1.30/1.05/0.84
2.07/1.56/i.19/0.96

Air filter:

Foam

Ignition:

Motoplat electronic

Lubrication:

pre-mix

Frame:

Double loop, backbone box chrome moly steel

Fork:

ø42mm Hydraulic air assisted conventional fork. 12.2" (310mm) travel

Fork oil:

570cc, 5w hydraulic oil

Rear suspension:

Dual Control Corte Cosso/Öhlins reservoir shock. 12.2" (310mm)

Front brake:

Drum brake, ø5.3" (135mm)

Rear brake:

Drum brake, ø6.2" (158mm)

Wheelbase:

( 1500mm)

Ground clearance:

(372mm)

Seat height:

(960mm)

Dry weight:
99Kg
103Kg