MAICO Pictures 1982
1982 MAICO ALPHA 1 490 & 250. Technical specifications at the bottom of page
In 1982 maico released their first rear mono suspension system named Alpha control. The 490cc engine had redesigned ports and pipe to give a 10% more power in the mid range area. The maximum power was unchanged though. The Alpha rear suspension could be dialed in to near perfection but unfortunately a few details ruined the markets confidence. The rising rate was all too progressive. The shock could extend a bit too much causing the shock shaft to bend when hitting the lower mount and the entire bike had gained too much weight from the previous year. As always the Corte Cosso shock didn't impress the riders and required some work or a switch to Öhlins. The 400cc model dissapeared.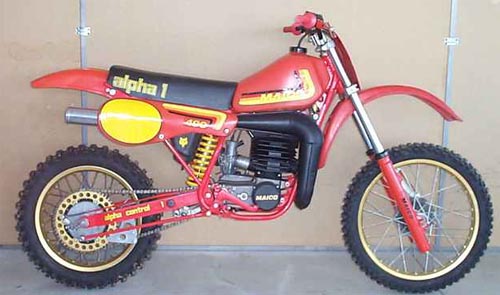 Here can one see the single shock layout. This is a very beautiful bike owned by Max Salinari.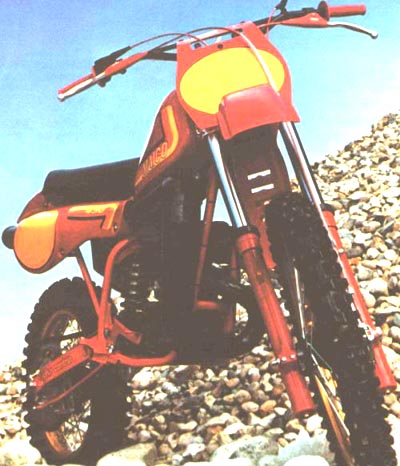 The 250cc machine below is in great shape, one can see the reed intake. The 250 was a sweet bike as ever but started to feel outdated among the customers with their water cooling and slightly stronger engines. The plastic in combination with the water cooling and added to that, all japanese bikes but suzuki had ø43mm forks by now made the maico one or two step behind. The old primary chain engine had been around for a long time too and since it was designed for open class sizes had too much flywheel effect and therefore lacked some snap.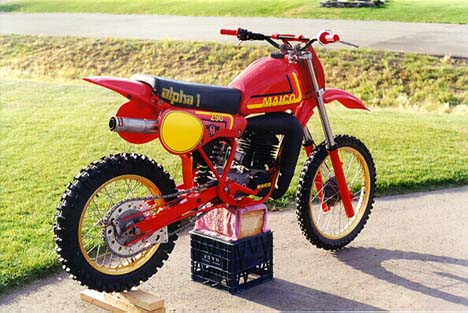 Even though the 1982 model where heavier than the previous year, bike tests in the magazines claimed it to have a light feel. Same old tractable power and first class suspension. The highly regarded suspension was as always much thanks to the extremely fine forks.
Technical specifications
MAICO 250cc
MAICO 490cc
Engine:

2-stroke single cylinder piston port air cooled

Displacement:
247cc
488cc
Bore/Stroke:
67 x 70mm
86.5 x 83mm
Compression ratio:

12:1

Carburetor:

Bing V54/II ø 38mm

Bing V54/II ø 40mm

Horespower:
40HP / 8000RPM (DIN)
53HP / 7000RPM (DIN)
Clutch:

Wet multi disk, 6 sintered and 6 steel plates (12), spring washers

Primary drive:

3/8 x 7/32" two single row chains, 52 links

Transmission:

5 speed

Gear ratio:
2.71/1.87/1.50/1.20/1.00
2.71/1.87/1.50/1.20/1.00
Air filter:

Foam

Ignition:

Motoplat electronic

Lubrication:

pre-mix

Frame:

Double loop, backbone box chrome moly steel

Fork:

ø42mm Hydraulic air assisted conventional fork. 12.2" (310mm) travel

Fork oil:

570cc, 5w hydraulic oil

Rear suspension:

Alpha Control, Corte Cosso reservoir shock. 12.8" (325mm)

Front brake:

Drum brake, ø5.3" (135mm)

Rear brake:

Drum brake, ø6.2" (158mm)

Wheelbase:

( 1510mm)

Ground clearance:

(372mm)

Seat height:

(960mm)

Dry weight:
228Ibs (104Kg)
237Ibs (108Kg)