MAICO Pictures 1980
1980 MAICO 440 MEGA. Technical specifications at the bottom of page
The most innovative and competitive open class bike back in 1980. New frame with the rigid box backbone structure, brand new ø42mm super rigid air assisted fork with 12.2 inches (310mm) travel. New plastic tank, aluminium hubs and 12.2 inches (310mm) of rear Corte Cosso suspension. The magnificent flat engine with the chain primary drive. Direct piston controlled ports and a forged Mahle piston that lasts forever.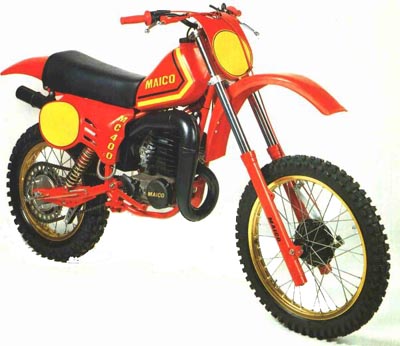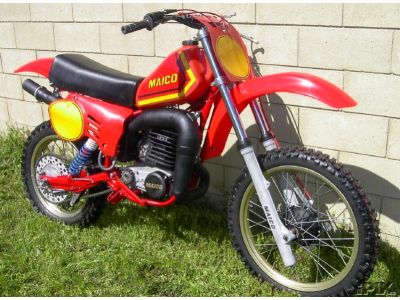 The rear end. Ultra strong chromolly swingarm, twin shocks with a separate reservoir and a huge 310mm travel. Noticeable is that bikes never gotten longer suspension travel than this. It was the ultimate spot on.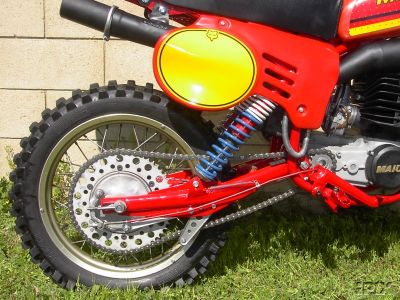 The engine and pipe. Note the huge bing carb and no reed valves to stop the flow. The 440cc engine delivered some 50HP at 7200rpm. Only slightly beaten by the Yamaha YZ465. The ultra tractable powerband in combination with the sharp steering made MAICO the best.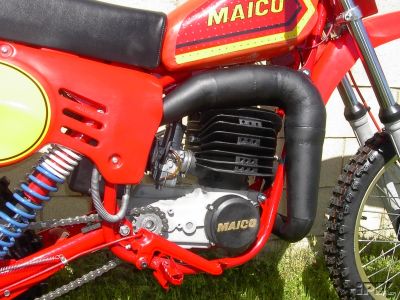 The MAICO 250. All specs equals the 400 and 440 except the engine size and power output.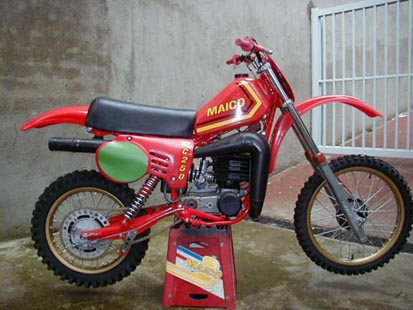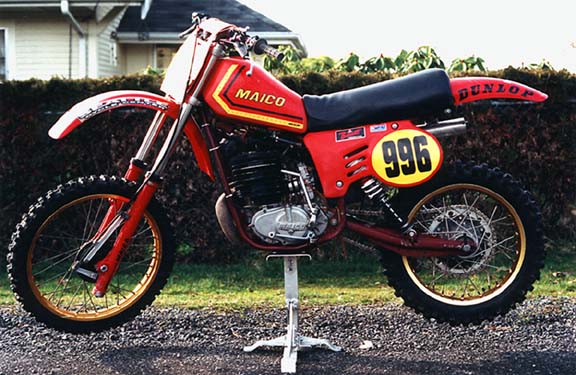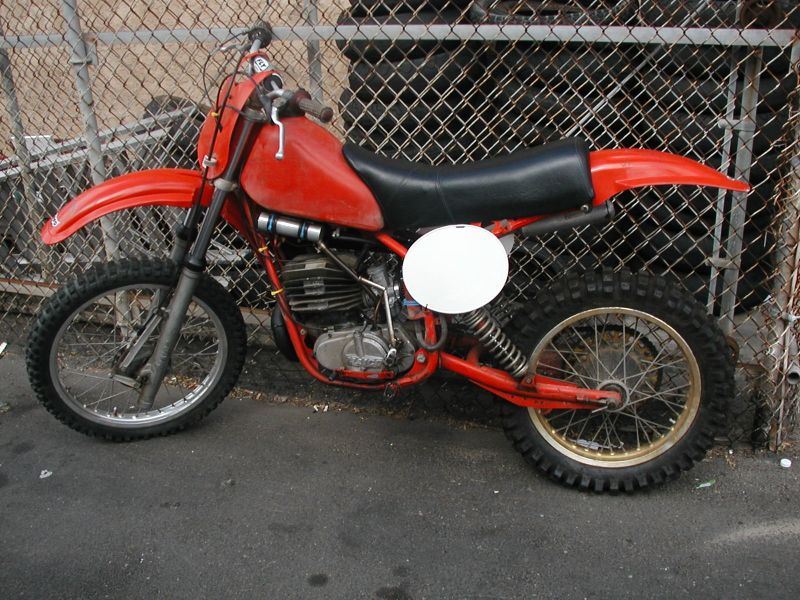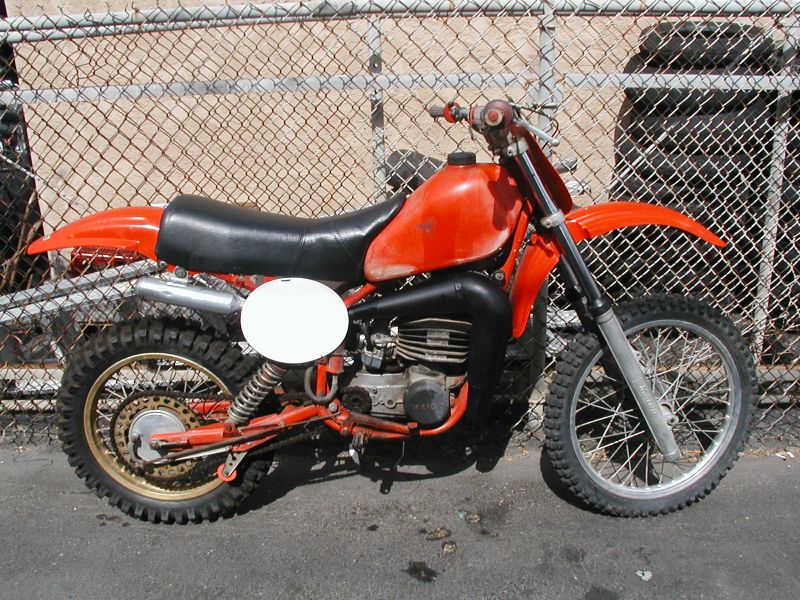 Technical specifications
MAICO 250cc
MAICO 400cc
MAICO 440cc
Engine:

2-stroke single cylinder piston port air cooled

Displacement:
247cc
386cc
438cc
Bore/Stroke:
67 x 70mm
77 x 83mm
82 x 83mm
Compression ratio:

12:1

Piston:

ø82mm, ø82.22mm, ø82.52mm, ø82.82mm forged single ring Mahle

Carburetor:

Bing V54/II ø 40mm

Horespower:
40HP / 7800RPM (DIN)
47HP / 7000RPM (DIN)
50HP / 7200RPM (DIN)
Clutch:

Wet multi disk, 6 sintered and 6 steel plates (12), spring washers

Primary drive:
Duplex chain 2.28

Triplex chain 1.86

Transmission:

5 speed

Gear ratio:
2.25/1.80/1.44/1.20/1.00

2.71/1.97/1.50/1.20/1.00

Air filter:

Foam

Ignition:

Motoplat electronic

Lubrication:

pre-mix

Frame:

Double loop, backbone box chrome moly steel

Fork:

ø42mm Hydraulic air assisted conventional fork. 12.2" (310mm) travel

Fork oil:

570cc, 5w hydraulic oil

Rear suspension:

Steel swingarm on needle bearings. Corte Cosso reservoir shocks. 12.2" (310mm)

Front brake:

Drum brake, ø5.3" (135mm)

Rear brake:

Drum brake, ø6.2" (158mm)

Wheelbase:

57.7" ( 1465mm)

Ground clearance:

14.2" (361mm)

Seat height:

37.8" (960mm)

Dry weight:
218Ibs (99Kg)
222Ibs (101Kg)
224Ibs (102Kg)