MAICO Pictures & data 1979
1979 MAICO line. Technical specifications at the bottom of page
Maico was famous for their strong and good handling machines. The 1979 line was the last bikes with the old frame. The ø38mm front fork offered 10" (255mm) travel and had a good reputation for beeing well damped. The engine was unchanged except for a minor port job. All in all it was a fine bike with excellent balance, powerful engine and good modern suspension.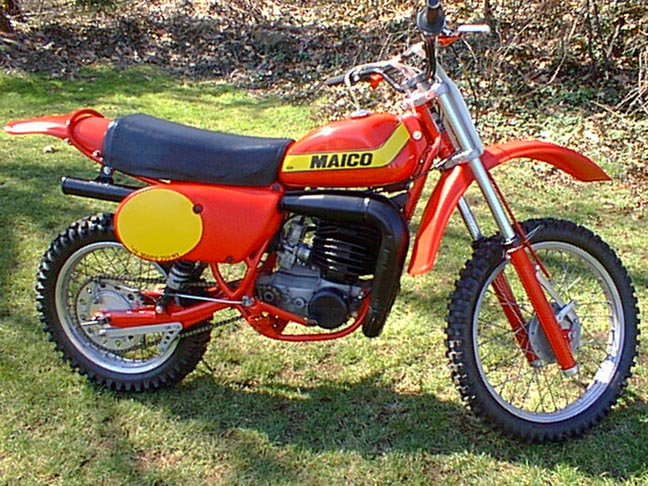 The 1979 maico line is an attractive collectors item. The last and also the best year with the old frame layout. The GS models featured lights and was very popular for enduro.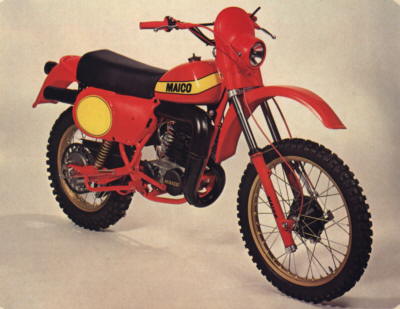 The 125cc maico was an interesting bike. Notice the intake system. The 1979 model where the last for the 125cc model. Maico where never to manufacture a tiddler again.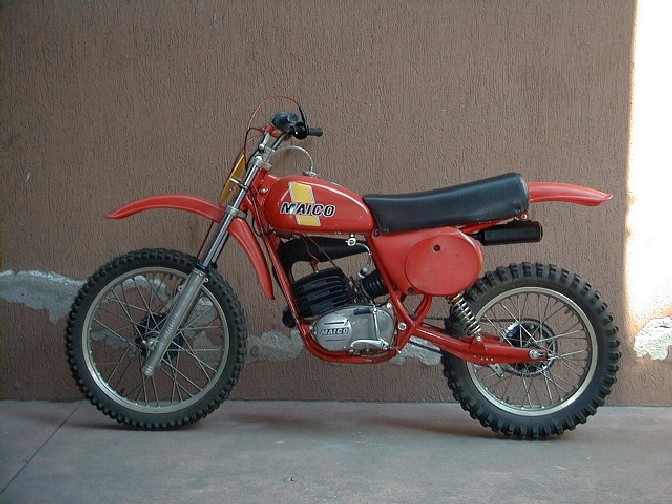 Here comes an excellent 250. These bikes where awesome.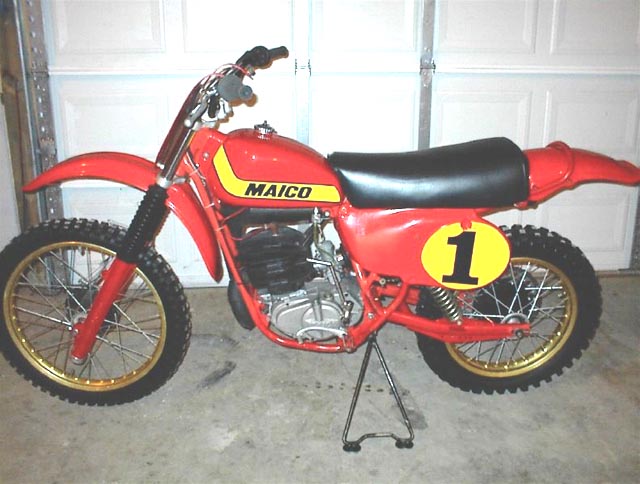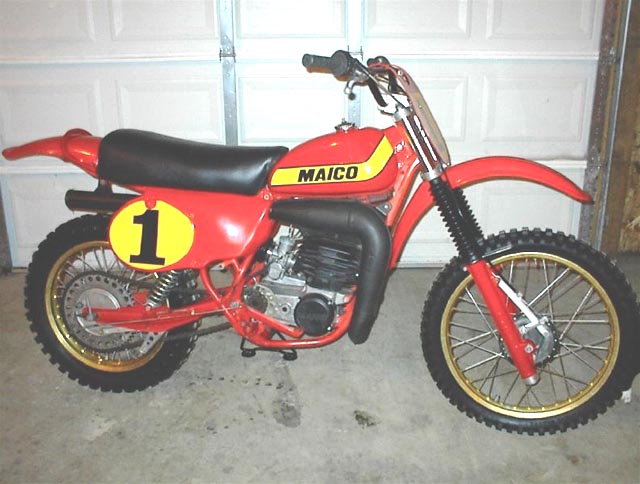 Note the engine. The newer design that came in 1978. This is the legendary flat, primary chain driven classical maico engine.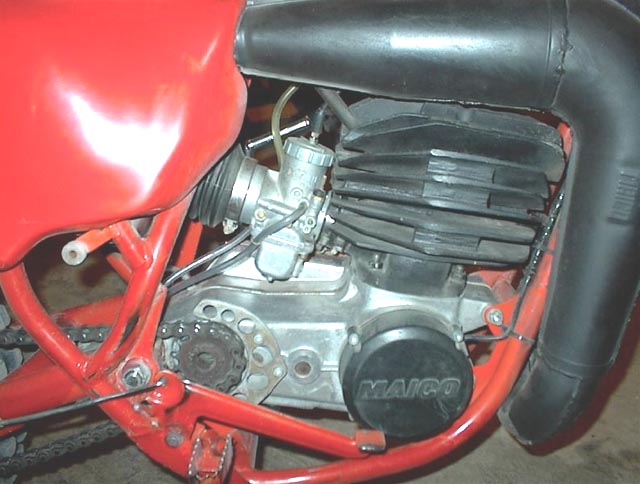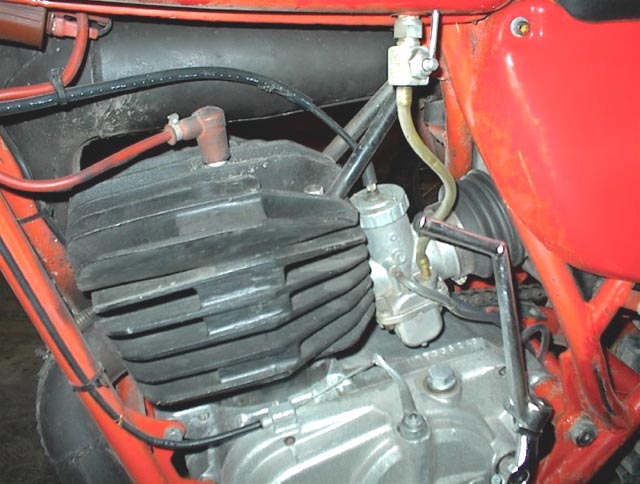 A beautiful 400cc from 1979 below.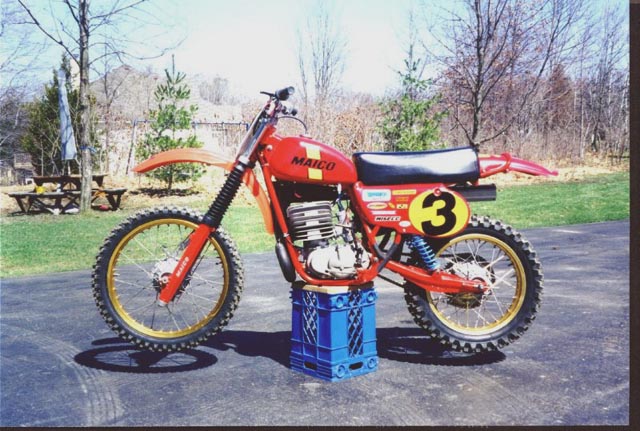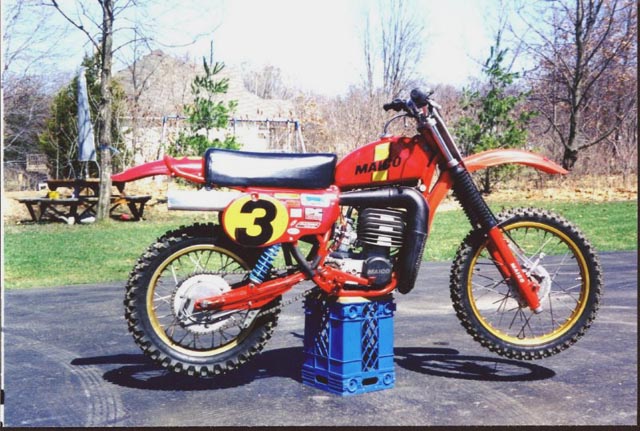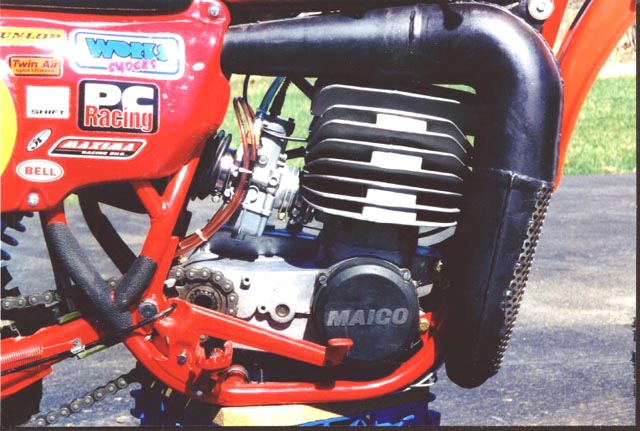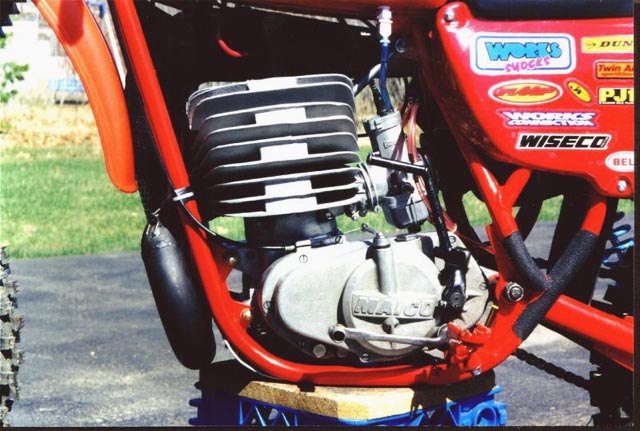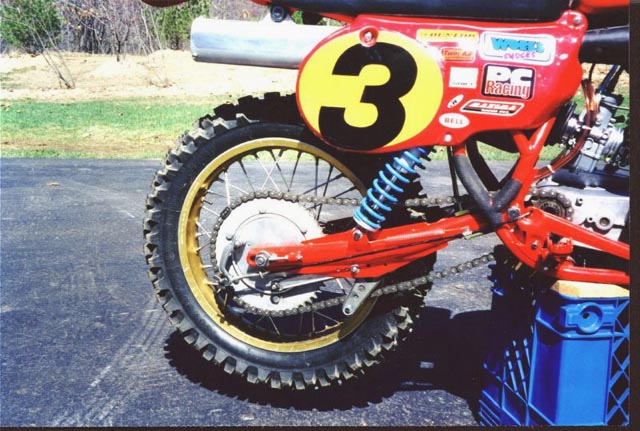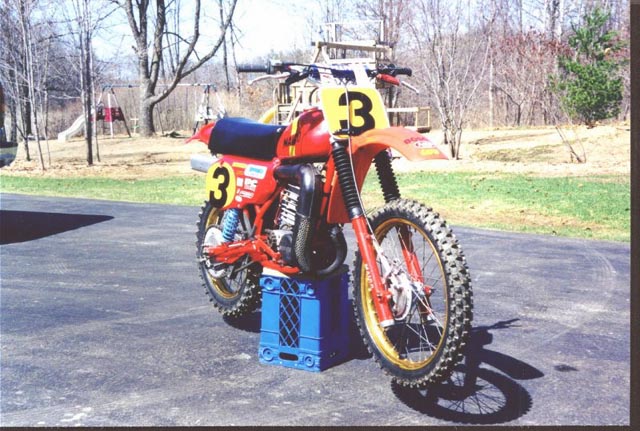 Technical specifications
MAICO 125cc
MAICO 250cc
MAICO 400cc
MAICO 440cc
Engine:

2-stroke single cylinder piston port air cooled

Displacement:
124cc
247cc
386cc
438cc
Bore/Stroke:
67 x 70mm
77 x 83mm
82 x 83mm
Compression ratio:

12:1

Piston:

forged single ring Mahle

Carburetor:

Rotary valve Bing ø32

Bing V54/II ø 36mm
Horespower:
23HP / 7800RPM (DIN)
38HP / 7800RPM (DIN)
44HP / 6900RPM (DIN)
48HP / 6900RPM (DIN)
Clutch:

Wet 5+6 (11plates)

Wet multi disk, 6 sintered and 6 steel plates (12), spring washers
Primary drive:
Duplex chain 2.28

Triplex chain 1.86

Transmission:

6 speed

5 speed

Gear ratio:
2.98/2.17/1.65/1.25/1.00

2.98/2.17/1.65/1.25/1.00

Air filter:

Foam

Ignition:

Motoplat electronic

Lubrication:

pre-mix

Frame:

Double loop, backbone box chrome moly steel

Fork:

ø38mm MAICO Hydraulic air assisted conventional fork. 10" (255mm) travel

Fork oil:

10w hydraulic oil

Rear suspension:

Steel swingarm on needle bearings. Corte Cosso reservoir shocks. 10" (255mm)

Front brake:

Drum brake, ø5.3" (135mm)

Rear brake:

Drum brake, ø6.2" (158mm)

Wheelbase:

56-58" ( 1422-1470mm)

Ground clearance:

11.8" (300mm)

Seat height:

36" (910mm)

Dry weight:
200Ibs (90Kg)
212Ibs (96Kg)
216Ibs (98Kg)
218Ibs (99Kg)